Oakfield Choir at Young Voices Concert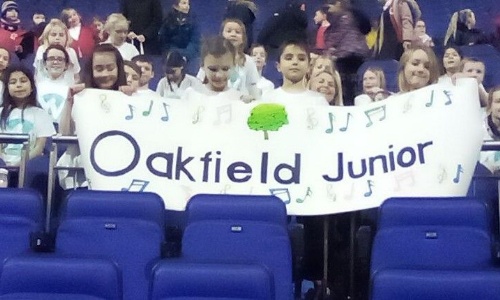 On Monday 23rd January, 41 members of Oakfield Choir and 7 adults travelled to the O2 for an unforgettable experience, taking part in Young Voices 2023.
Just over nine thousand children were singing a wonderful collection of songs, including a compilation of Spike Milligan nonsense poems set to music; a Trolls medley; a collection of folk songs from all corners of the British Isles, a new pop song Message composed by young people in a special project; a mash up of Three Little Birds / Don't Worry, Be Happy and, perhaps most memorable of all, we were joined by the amazing Heather Small, who sang Proud, with 9,000+ voices joining in as backing singers in the chorus. In the rehearsal, we recorded the chorus to be used in a charity release of Proud to raise funds for Place 2Be, a children's mental health charity.
Oakfield choir represented the school wonderfully throughout this long and extremely exciting day. Thank you to all the adults who made this trip possible, including Julie David in the school office who put in many hours of planning, and also to parents for supporting your children in choir.
Watch out for choir's next concert, which will be on Monday 24th April at the Dorking Halls with Surrey Arts. Existing choir members will continue to be in choir and we have a few spaces for new members too. Request a space for your child by emailing gill_venables@oakfield.surrey.sch.uk