Milestones Museum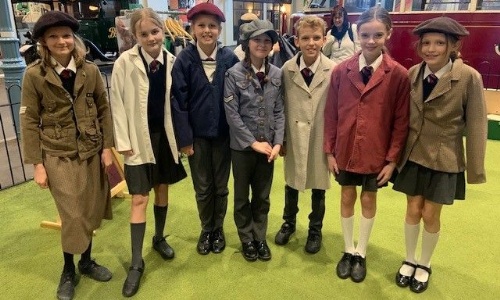 On Wednesday last week, Year 6 went to Milestones Museum. Chloe from 6M has written this report of the day:
At the museum, we split into two classes and went to do the three workshops.
The first workshop was about the role of an Air Raid Protection (ARP) Warden. When we got to the workshop, we learnt about what would an ARP wear, what a gas attack alarm would sound like and what a gas mask for adults and children would look like (we even got to try one on.) After that, we did some activities in green boxes. One of the activities was using the clues given to work out what item belonged to who. We then split into three groups with adults in 6M. Next, we went to see a real-life Anderson's shelter. It was very interesting.
At our second workshop, we learnt about food rationing. We each got a little ration book to look at all the foods they would ration. I learnt that vegetables would not usually be rationed because you could grow them yourself. Meat was sometimes rationed because you could go and hunt yourself but not all the time (sometimes you had to go to fishmongers or the butchers). Bananas were always rationed because they came from abroad. Once we knew the information we needed, we got baskets with 'foods' and we had to sort them into three categories: one for food that wasn't rationed, one for food that was sometimes rationed, and one for food that always rationed.
At our last workshop, we did WWII First Aid Training. We learnt how to make a bandage for wounded people. It was very simple. We got a piece of triangular-shaped cloth, we put it around our partner's neck, wrapped it around their arm, tied the back of the bandage together and tucked in the little corner. I found this a really useful life skill.
At the Milestones Museum arcade, there were many interesting old fashioned games, fortune tellers and money games. In fact, the penny we used for the games were actual pennies that were used in the Victorian era. The games were all very fun and the teachers had a go at it too!
When we had finished playing at the arcade and eating lunch, we explored the museum. There were many secret alleyways and there was a school room where we pretended we were in a Victorian school! We also went to a sweet shop where we got the choice of a mint imperial or a dolly mixture. I chose a mint imperial and it was very nice!
Personally, I thought that Milestones Museum was a very good experience and I would like to go there again!
click here for photos of our visit