Sports Crew Training Day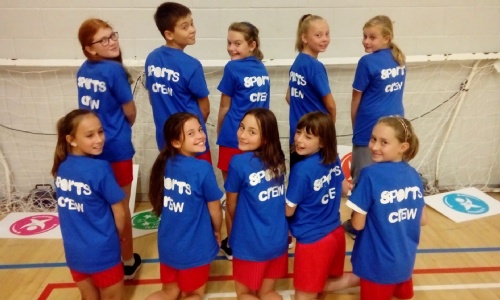 Tannah and Abi have written a report about their training day...
On 9th October the Year 6 Sports Crew had the opportunity to take part in a Sports Leader Training Day. As we got there many schools were at Dorking Sports Centre in their sports crew T shirts. Then we were given a small booklet to work in. We listened to a speech by a sports instructor then did some team work activities. Our favourite was to keep the ball on top where we had a sheet with holes in, and we had a small ball to try and keep on it. Later we had to improve a simple game by using the STEP rule. S stands for space, T stands for technique, E stands for equipment and P stands for people. We started with a simple game of going in and out of rounder bases, then we made the gap smaller and added in points. Soon after that there was a 'goblin' out to get you! Next we went over to other games and played them while other schools taught our game. Here comes our favourite bit, the mini mile! This activity is a cross country race with obstacles. Most of us did 5 laps in 2 minutes. That leads up to the end of our day. WE LOVED IT! Thank you to Mrs King who led us along the way.