Pudsey Bear Cake Sale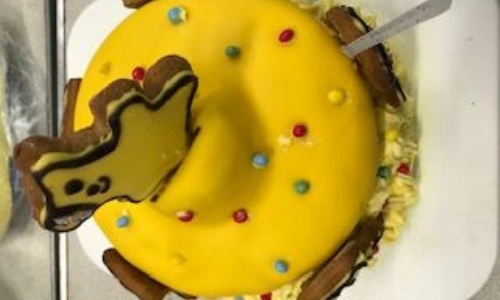 The library became a sea of yellow last Thursday! We were overwhelmed with the response to our Pudsey bear Bake Sale!
Well done to all the children who made cakes and brought them along. The quality of the baking was wonderful, and choosing the winning bakes was a challenge for our School Council members.
A huge well done to Tannah P from 6GK - her winning cake is on the photo above.
There were also some wonderful entries from our runners up:
2nd place - Belle B (4T)
3rd place - Aaron A (6M)
4th place - Amy B (5H & LAN)
You can click here here for photos of these and other bakes
After school all the cakes were sold - we raised a great big £226.50 for Children in Need!. Many thanks to Mrs Etty and our school council members for all their hard work organising this fundraiser and running the cake sale! Arianna A., Thomas L., Henco S., Megan P., Lillie B., Dillon B., Chloe W., Rebecca W., Stanley O. and Deveraux V.