The Wheelie Big Push!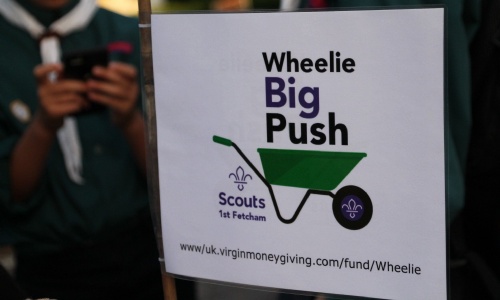 Oakfield pupils took part in the Wheelie Big Push!
On Saturday 28th September, a number of Oakfield pupils who are part of the 1st Fetcham Scout Group, took part in the Wheelie Big Push fundraising event. The event was to raise money for the new Community Building and Scout HQ that is being planned for Cock Lane Recreation Ground. This involved walking and pushing 3 wheelbarrows on a 20 miles circular route from 7am to 7pm! All participants were sponsored to walk sections of the route with the barrows. Those who took part were Aaron T, Matthew F, Nicole F, Faye M, Albie M, Jonathon W, Oliver W, Ralph A and Reuben W.
A special mention to Jonathon W in year 3 who walked over 10 miles and Faye M who completed the whole 20 mile route. It was a fantastic effort by everyone that took part – well done!